I JUST CHANGED MY EMAIL ADDRESS BY STILL CANNOT LOGON...
There is a processing delay when changing an email address. Please check back in 6 to 8 hours and try to login again. Sometimes the process can take up to 24 hours.

CAN I ORDER PRODUCTS FROM THE NSP CATALOG FOR MY FRIENDS AND FAMILY?
Yes you can! Unlike the NSP Pro Deals page the NSP Catalog is open for you to shop for yourself, for your friends, and for your family. The only exclusions are any official patrol wear products, those are for NSP patrollers only.
I SIGN IN AND IT SAYS I'M SIGNED IN, BUT I CLICK A CATEGORY AND GET AN ERROR MESSAGE THAT SAYS SIGN IN AGAIN...

This is a known issue and is being resolved. You may recieve the following error, for which a solution is posted below:

WORKAROUNDS:
#1. Option 1 - Direct Link
Navigate to

https://store.nsp.org/login

Create your Store Password (if you haven't already)

Login with your email address

exampleEmail@example.com

, and the Store password you created in Step 2.
#2. Option 2 - Use the Sign-In button at the top of the screen.
The Sign-In link is shown below: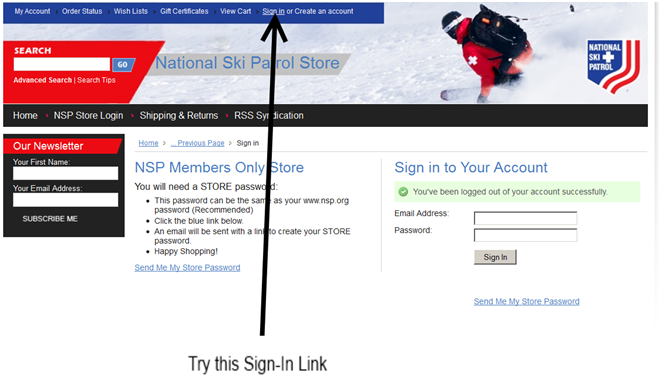 HOW CAN I ORDER CUSTOM PRODUCTS FOR MY PATROL?
The National Ski Patrol has partnered with Specialty Incentives to provide affordable and quality custom NSP products for your next patrol event or division meeting. Visit the NSP Custom Product site here to register and place your order. If you cannot find what you are looking for on the website, please review the Specialty Incentives catalog and contact them directly for pricing.
If you are looking to customize a product made by one of our partner companies (i.e., Patagonia, Primal Wear, etc.) please download, complete, and submit the NSP Custom Product Order Form here.